Showing 1–20 of 83 results
Show Your Team Spirit with a Mets Hawaiian Shirt
Welcome to the world of team fashion where you can proudly showcase your love for the New York Mets. If you're a die-hard fan looking for a unique way to support your favorite team, look no further than the Mets Hawaiian Shirt. This stylish and vibrant shirt is the perfect blend of tropical vibes and team pride, making it a must-have for any Mets enthusiast. Whether you're heading to the game or simply want to add a touch of Mets flair to your wardrobe, the Mets Hawaiian Shirt is a fantastic choice. With their wide range of designs and high-quality craftsmanship, Leecyprint ensures that you can show your team spirit in the most fashionable way possible.
Whether you're heading to a game, attending a summer barbecue, or simply want to stand out in a crowd, a Mets Hawaiian Shirt is sure to make a statement. Show your unwavering support for the team and embrace the spirit of the game with this stylish and distinctive apparel. It's time to show off your team pride and celebrate the Mets in style with a Mets Hawaiian Shirt.
Stand Out in Style with Mets Hawaiian Shirts
Mets Hawaiian shirt is carefully crafted with attention to detail, featuring the iconic team colors of blue and orange and the famous Mets logo. Whether you're attending a game at Citi Field, enjoying a summer barbecue, or simply strolling around town, wearing a Mets Hawaiian shirt sets you apart from the crowd and lets everyone know that you're a true Mets fan.
Made from lightweight and breathable materials, these shirts keep you cool and comfortable, even on the hottest summer days. Whether you're cheering on the Mets from the stands or relaxing with friends, you'll feel confident and stylish in your Mets Hawaiian shirt.
Unique Designs for True Mets Fans
When it comes to expressing your love for the Mets, a regular team t-shirt just won't cut it. That's why Mets Hawaiian Shirts are the ultimate choice for true Mets fans who want to stand out in style. These shirts feature unique designs that are specifically tailored for the avid Mets supporter. From intricate patterns inspired by the team's logo to artistic interpretations of iconic Mets moments, each shirt tells a story and showcases your unwavering devotion to the team.
Vibrant Colors and Team Logos
Mets Hawaiian Shirts are known for their vibrant colors and bold team logos that leave no doubt about your allegiance. The striking combination of blue and orange, the iconic colors of the Mets, are prominently featured, instantly capturing attention wherever you go. The team's logo and other distinctive symbols are meticulously incorporated into the design, ensuring that your Mets pride is front and center. These shirts are a visual representation of your unwavering support for the team and a conversation starter among fellow fans.
Embrace the Tropical Vibe with Mets Hawaiian Shirts
Not only do Mets Hawaiian Shirts let you proudly display your team spirit, but they also embrace a fun and tropical vibe. The lightweight and breathable fabric make them perfect for those hot summer days at the ballpark or any outdoor gathering. The relaxed fit and comfortable feel allow you to move freely and enjoy the game or festivities without any restrictions. Whether you're tailgating, enjoying a beachside picnic, or simply relaxing in the backyard, Mets Hawaiian Shirts bring a touch of vacation mode to your Mets fandom.
Customized Mets Hawaiian Shirts
When it comes to showing your team spirit, nothing beats a customized Mets Hawaiian shirt. With the ability to add your name, initials, or even your favorite number, these personalized shirts take your fandom to the next level.
Hawaiian shirts have long been a popular fashion choice, and now you can take your love for the New York Mets to a whole new level with customized Mets Hawaiian shirts. These unique and personalized shirts allow you to showcase your team spirit in style.
Add Your Name or Initials to Your Mets Hawaiian Shirt
Make your Mets Hawaiian shirt truly your own by adding your name or initials. With a personalized touch, you can proudly display your support for the team while also making a statement about your individuality. Whether you choose to have your name boldly printed across the back or your initials embroidered on the front, your customized Mets Hawaiian shirt will be a standout piece in your wardrobe.
Personalize Your Mets Hawaiian Shirt with Your Favorite Number
For fans who have a special connection to a specific player or number, personalizing your Mets Hawaiian shirt with your favorite number is a fantastic option. Whether it's the iconic number of a Mets legend or a number that holds personal significance to you, having it prominently displayed on your shirt adds a unique touch that sets it apart from the rest.
Create a One-of-a-Kind Mets Hawaiian Shirt at Leecyprint Store
If you're looking for a truly unique Mets Hawaiian shirt, look no further than Leecyprint Store. With their customization options, you can create a one-of-a-kind shirt that perfectly captures your Mets fandom. From choosing the colors and patterns to adding your own artwork or text, the possibilities are endless. Design a Mets Hawaiian shirt that is as unique as you are and wear it with pride at every game or fan gathering.
Comfort and Quality: Mets Hawaiian Shirts You'll Love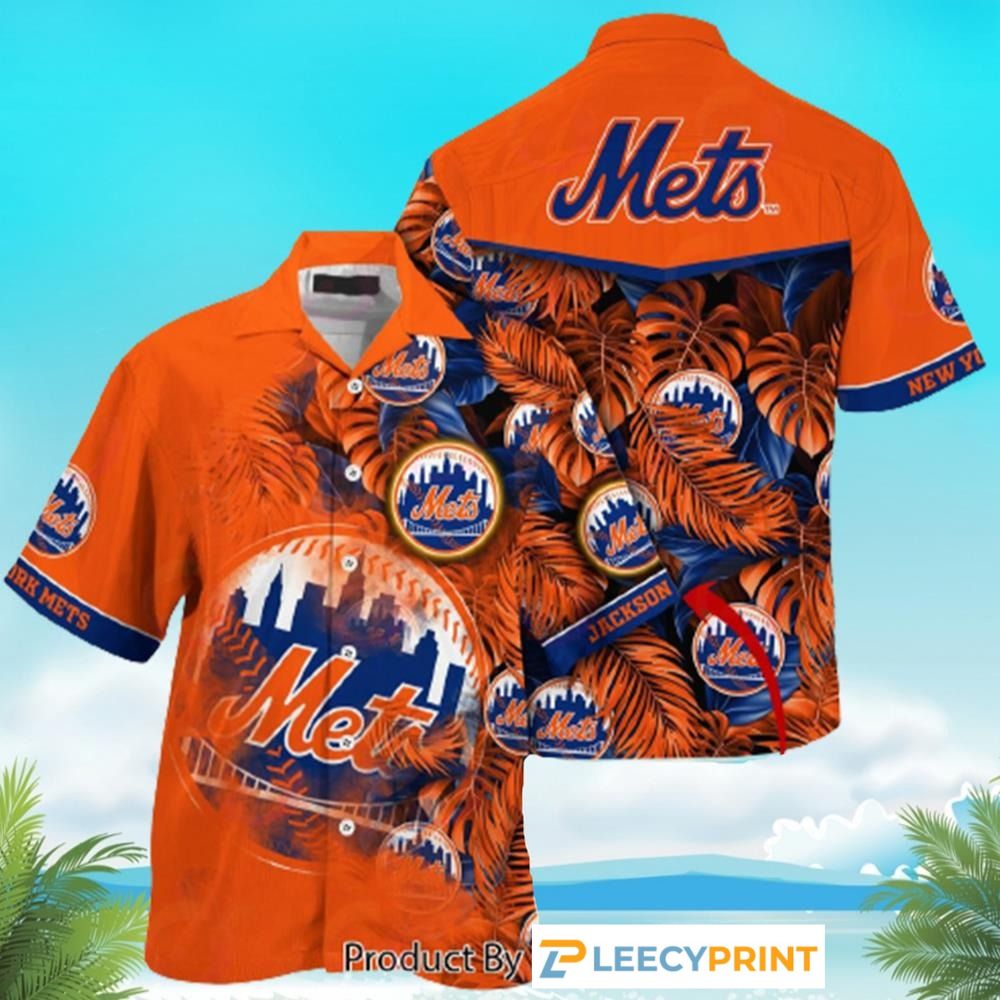 Hawaiian shirts are known for their relaxed fit and lightweight fabrics, making them ideal for those hot summer days at the ballpark. The Mets Hawaiian shirts are no exception. They are made with high-quality materials that are breathable and gentle on the skin, keeping you cool and comfortable throughout the game.
When it comes to showing your support for the New York Mets, comfort and quality are essential. That's why Mets Hawaiian shirts are a must-have addition to your fan wardrobe. Crafted with meticulous attention to detail, these shirts provide the perfect blend of style and comfort that every fan desires.
Lightweight and Breathable Fabrics for Summer
Enjoy the summer breeze and stay cool at every Mets game with lightweight and breathable fabrics. The Mets Hawaiian shirts are carefully crafted using high-quality materials that offer excellent breathability, ensuring you stay comfortable even in the hottest of summer days. Whether you're cheering from the stands or attending a tailgate party, these shirts will keep you feeling fresh and relaxed.
Perfect Fit for All-Day Comfort
No matter your body type, the Mets Hawaiian shirts are designed to provide a perfect fit for all-day comfort. With their thoughtfully tailored cuts and size options, these shirts offer a relaxed yet flattering silhouette that flatters every fan. Say goodbye to uncomfortable, ill-fitting shirts and embrace the all-day comfort that Mets Hawaiian shirts provide.
Durable Construction for Long-Lasting Wear
Mets fans are known for their unwavering loyalty, and the Mets Hawaiian shirts are built to withstand the test of time. Made with durable materials and meticulous craftsmanship, these shirts are designed to handle the rigors of game days, tailgates, and everyday wear. You can trust that your Mets Hawaiian shirt will stay in top condition, ready to showcase your team pride season after season.
Ways to Wear Your Mets Hawaiian Shirt
When it comes to your Mets Hawaiian shirt, the possibilities are endless. Its versatile design and vibrant colors make it a statement piece that can be dressed up or down for various occasions. Here are some ideas on how to rock your Mets Hawaiian shirt with style.
Game Day Ready: Pair with Mets Merchandise
On game days, show your unwavering support for the Mets by pairing your Hawaiian shirt with other Mets merchandise. Complete the look with a Mets cap, a foam finger, or even a jersey. This ensemble will make you stand out in the crowd and let everyone know which team you're cheering for.
Casual and Cool: Dress Down with Jeans or Shorts
For a laid-back and casual look, pair your Mets Hawaiian shirt with a pair of jeans or shorts. Roll up the sleeves for a relaxed vibe and add some sneakers or sandals to complete the outfit. This effortlessly cool combination is perfect for hanging out with friends, running errands, or enjoying a day out in the city.
Summer Vibes: Ideal for Beaches and Outdoor Gatherings
Take your Mets Hawaiian shirt to the beach or any outdoor gathering for some summer fun. Throw it over your swimsuit or pair it with some linen pants for a breezy and tropical look. The lightweight fabric and vibrant design will keep you feeling cool and stylish under the sun.
Party Ready: Dress Up with Chinos or Khakis
Make a statement at parties or special events by dressing up your Mets Hawaiian shirt with chinos or khakis. Tuck it in for a more polished look and add a belt to complete the ensemble. This sophisticated yet fun outfit will make you the life of the party while still showcasing your team spirit.
» You may also love: Minnesota Twins Hawaiian Shirt
» See more at: MLB Hawaiian Shirt